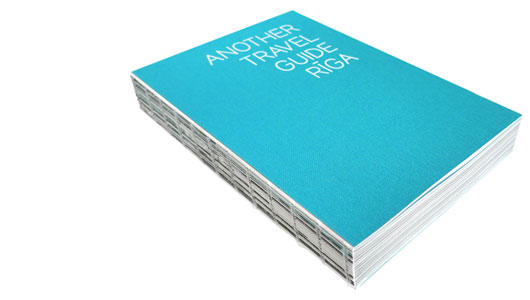 ANOTHER TRAVEL GUIDE RĪGA
The first thing today's demanding traveller seeks is a good friend who lives in the city he or she wants to explore – someone to reveal things that aren't normally included in traditional tourist guidebooks. You need those who know a city intimately to show you their favourite neighbourhoods, streets, buildings, museums, bars, restaurants, stores, historic sites and places with unusual or panoramic views. Another Travel Guide Rīga is the key to Latvia's capital. It presents a true insider's Riga as experienced by artists, architects, entrepreneurs, journalists, photographers and other impromptu tour guides who love their city and will happily share its secrets with you. Discover Rīga in all its diversity – from its classic attractions to the lesser-known gems on its outskirts and the well-hidden spots only those in the know can show you.
Another Travel Guide Rīga takes a creatively visual approach that's radically different from that of typical travel guides. The photographs – commissioned especially for the travel guide – capture the unique essence of each location or object listed, offering a glimpse of the experiences and sensations that make a visit to Rīga unforgettable. The guide includes detailed maps of the city and its environs. 
Importantly, the team behind the guidebook has made staying well-informed about the latest developments in the city one of its priorities, which is a guarantee of the quality of the information provided to the readers.
See a few samples from the guide's 288 pages
Another Travel Guide Rīga is published by the Internet magazine for independent travellers www.anothertravelguide.com and the cultural projects agency Indie in cooperation with the design studio Tundra.
First published in 2009, the English version of 'Another Travel Guide Riga' saw its fourth revised and expanded edition published in June 2013. The compilers of the travel guide aim to make the book permanently available to the visitors of Riga, regularly updating the content to feature the latest developments. The guidebook is also available in Russian and German; 2012 year also brought a Japanese translation published in Japan.
To purchase the guide book directly from us, please fill in this form
Another Travel Guide Rīga is available at:
www.amazon.co.uk
On airBaltic fligths
On Tallink ferries "Romantika" and "Silja Festival"
In Rīga:
Shops:
Lukabuka bookstore
Aspazijas bulvāris 3
Riija
Tērbatas iela 6/8
Gallery Istaba
Kr.Barona iela 31a
Design boutique Xcelsior
Kalnciema iela 37
INRE Scandinavian Design
Brīvības iela 31
Bonēra
Blaumaņa iela 12a
Otrā elpa
Berga Bazārs
Map Shop "Jāņa sēta"
Elizabetes iela 83/85, k.2.
Jāņa Rozes bookstores
K.Barona iela 5
Valters un Rapa bookstore
Aspazijas bulv. 24
Globuss bookstore
Vaļņu ielā 26
Jumava bookstore
Dzirnavu iela 73
Latvijas grāmata
www.lgramata.lv
Robert Books bookstore
Dzirnavu iela 51a
Galerija "Alma"
Rūpniecības iela 1
Galerija "XO"
Elizabetes iela 14
Dizaina galerija Trentini
Lāčplēša iela 101
Design Gallery Putti
Mārstaļu iela 16
Art Nouveau Rīga
Strēlnieku iela 9
Domenikss
Krasta iela 34
Latviešu zaļās studijas "pienene"
Kungu iela iela 7/9
Other places:
Riga International Airport (RIX) souvenir shop "Sveicināti Rīgā"
Riga Tourism Information Centre
Rātslaukums 6
Taka Spa
Kronvalda bulvāris 3a
Restaurant "Ostas skati"
Matrožu iela 15 (Ķīpsala)
Bar/Cafe Vīna Studija
Elizabetes iela 10
Stabu iela 30
t/c Galerija Centrs, Audēju ielā 16
i/c Olimpia, Āzenes iela 5
Dome Hotel
Miesnieku iela 4
Hotel "Bergs"
Berga Bazārs
Gallery Park Hotel
Kr. Valdemāra iela 7
Kalnciema Quarter
Kalnciema iela 35
In Helsinki:
KIASMA Museum of Contemporary Art Store
Expositon Space "Cable Factory" Souvenir shop
Art Museum "Teneum" Souvenir Shop
Stockmann bookstore "The Academic Bookstore"
On Tallink ferries "Romantika" and "Silja Festival"